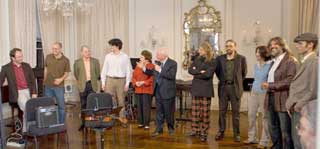 Continuum's "The Latin Legacy" 2008 concert at Americas Society.
Composers from left: Carlos Sánchez-Gutiérrez, Fernando Benadon, Jorge Martín, Sebastián Zubieta; Cheryl Seltzer and Joel Sachs, co-directors; Arthur Kampela, Manuel Sosa, Ileana Pérez-Velázquez, Marcelo Toledo, Ricardo Romaneiro

Photo: Arturo Sánchez
In New York City CONTINUUM has pioneered "retrospective concerts," which celebrate individual composers. Exploring a broad range of their work, such concerts offer the listener deep insights into a composer's development. Retrospective concerts have dealt with established masters -- who are sometimes known by only a handful of their works -- and introduced important new figures from around the world.
Continuum also has opened new vistas through topical concerts centering on decisive developments in new music. Those who attend Continuum performances over a period of years often talk of the perspective that they have gained on the controversial music of the last hundred years and the music of our time.

*An asterisk indicates a new program.
2009-10
See the CALENDAR.
2008-09
Roberto Sierra*
 
Illuminating Ukraine - Virko Baley & The Avant Garde - Works of Baley*, Valentin Bibik, Leonid Hrabovsky, Alexander Shchetynsky, Valentin Silvestrov
 
China in America - the younger generations of Chinese-born composers in the U.S. - Bun-Ching Lam, Du Yun, Huang Ruo, Jing Jing Luo, Kui Dong, Lei Liang, Wang Jie.
2007-08
Benjamin Yusupov
Galina Ustvolskaya*
The Latin Legacy (Latin American-born composers in the U.S. - Fernando Benadon, Arthur Kampela, Jorge Martín, Ileana Pérez-Velázquez, Ricardo Romaneiro, Carlos Sánchez-Gutiérrez, Manuel Sosa, Marcelo Toledo, Sebastián Zubieta)
2006-07
Israel's Music - A New Wave (Recent immigrants from Central Asia and Beyond - Hana Ajiashvili [Georgia], Josef Bardanashvili [Georgia], Valentin Bibik [Ukraine], Uri Brener [Russia], Michael Liebman [Russia], Benjamin Yusupov [Tajikistan])
CONTINUUM at People's Symphony Concerts (Paul Chihara, Thea Musgrave, Pablo Ortiz, Carlos Sánchez-Gutiérrez, Paul Schoenfield, Francis Schwartz, Roberto Sierra, Virgil Thomson)
Tania León
2005-06
Continuum is 40! (Works written for Continuum by Milton Babbitt, Paul Chihara, Robert Erickson, Ursula Mamlok, Pablo Ortiz, Arvo Pärt, Francis Schwartz)
Luigi Dallapiccola*
Betty Olivero
2004-05
Arvo Pärt - recent works*
American Composers - Jewish Music (Aaron Copland, Mario Davidovsky, Miriam Gideon, Osvaldo Golijov, Paul Schoenfield, Francis Schwartz, Roberto Sierra)
Roberto Sierra*
2003-04
Paul Schoenfield
Valentin Bibik and Leonid Hrabovsky
Mario Davidovsky birthday tribute (Davidovsky, Orlando Jacinto García, Tania León, Carlos Sánchez-Gutiérrez, Roberto Sierra)
2002-03
Darius Milhaud*
Stefan Wolpe and Ursula Mamlok
Music at the Crossroads (Mongolia, Tajikistan, Uzbekistan)
2001-02
Aaron Copland
Sofia Gubaidulina*
Osvaldo Golijov
Japanese Composers - New Voices
2000-01
Sonic Boom for kids (a children's concert)
Mauricio Kagel
Continuum at 35 (music written for Continuum)
1999-2000
Selected Schwartz -- music-theatrical works by Francis Schwartz, Jon Deak, John Cage, and Joan LaBarbara
Franghiz Ali-Zadeh
Roberto Sierra
Ushio Torikai
1998-99
Arvo Pärt*
Leon Kirchner*
Paul Schoenfield
1997-98
Remembering Conlon Nancarrow*
Virko Baley -- 60th Birthday
Viktor Ullmann
1996-97
Chinary Ung
Giacinto Scelsi
Honoring Finland
Homage to Takemitsu
1995-96
Speaking Out! A Continuum Cabaret
Celebrating Continuum at 30
The World of Kobo Abe
1994-95
Pulse Puerto Rican
Giya Kancheli
Takemitsu and Mayuzumi
1993-94
The Caucasus Connection (Music of Azerbaijan, Armenia, Georgia)
Morton Feldman
György Kurtág
1992-93
Latin in America (Latin American composers in the US)
Ruth Crawford Seeger*
György Ligeti
1991-92
Nancarrow complete solo and chamber works
Leonid Hrabovsky
Stefan Wolpe
1990-91
Luciano Berio 65th Birthday
3 Pioneers: Grazyna Bacewicz, Ruth Crawford Seeger, Galina Ustvolskaya
Milton Babbitt 75th Birthday
1989-90
A Portrait of Virgil [Thomson]*
Magyar Muzsika
Henry Cowell*
1988-99
minimal and beyond
Leon Kirchner - 70th Birthday
Sofia Gubaidulina
1987-88
Nicolas [Slonimsky] at 93
John Cage - 75th Birthday
Valentin Silvestrov
1986-87
Luigi Dallapiccola*
Ives the Visionary
The New Ukrainians
1985-86
New from Israel
Continuum is 20!
Nancarrow with Nancarrow
1984-85
Rags and Riffs Reborn
Two at the Frontier: Robert Erickson, Lou Harrison
Mario Davidovsky
1983-84
George Crumb
Arvo Pärt
"Pierrot and His Time"
1982-83
Anton Webern Centennial*
"Pianos With..."
Erik Satie*
1981-82
Alfred Schnittke
Eastward Ho!
America's Composers Encounter the Orient
Stefan Wolpe*
1980-81
USSR: Unveiling the Avant-Garde
Debussy: the Final Years
Roger Sessions
1979-80
Shostakovich - late works*
Rice Bowls, Cans, Tympani, Gongs:
The Percussion Revolution in America
Alban Berg*
1978-79
Virgil Thomson
America's Architects of Musical Space
Béla Bartók - the Late Years*
1977-78
Igor Stravinsky*
50 Years Ago: the NY Avant-Garde in the 1920s
Olivier Messiaen
1976-77
Shostakovich: late works
Leon Kirchner
Henry Cowell*
1975-76
Carl Ruggles
Milton Babbitt
Percy Grainger
1974-75
Ruth Crawford Seeger
Maurice Ravel
Luciano Berio
1973-74
Erik Satie
Aaron Copland
Arnold Schoenberg*
1972-73
Roger Sessions
John Cage
Edgard Varèse
1971-72
Stefan Wolpe*
Scott Joplin
Darius Milhaud
1971
Igor Stravinsky
Paul Hindemith
Elliott Carter
1969-70
Charles Ives
Luigi Dallapiccola
Alban Berg
1968-69
Claude Debussy: Late Works
Henry Cowell
Béla Bartók
1967-68
Stefan Wolpe
Arnold Schoenberg
1966-67
Anton Webern